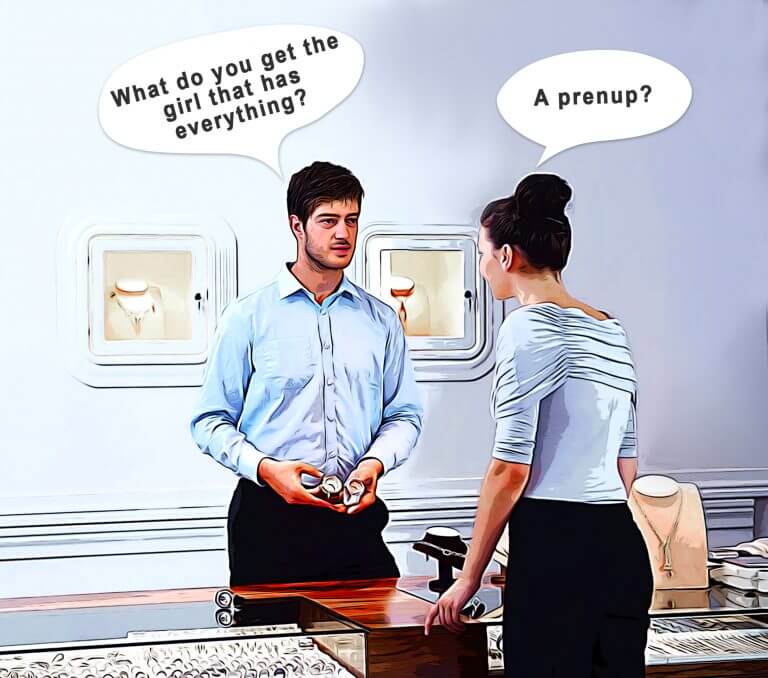 Whether by death or divorce, all marriages come to an end. A prenuptial agreement, or premarital agreement, can help outline each spouse's expectations when the unexpected happens. Understanding what a prenuptial agreement is and whether it is right for you is the first step in preparing for what the future may bring. This blog addresses 5 common prenuptial agreement myths. For a list of frequently asked questions regarding prenuptial agreements, click here.
"Prenuptial Agreements are for the Wealthy"
A premarital agreement protects anything from a house to a pet and even debt.  You don't need a trust fund or piles of money to benefit from a prenup. Of course, there are certain situations when a premarital agreement is STRONGLY advised. A few of these circumstances are listed in our previous article, 9 Frequently Asked Questions About Prenuptial Agreements. To determine if a premarital agreement is right for you, talk to an experienced family law attorney or your financial advisor.
"A Prenup is for People Who Can't or Won't Commit"
Premarital agreements have developed a reputation for being damaging to the success of the marriage. Yes, that can be true if one party believes the prenup is wanted for selfish reasons or because they think their partner feels the marriage will fail. However, as we mentioned earlier, all marriages come to an end. Having a strategy for the future, unexpected or planned, is never a bad thing. How you initiate the conversation and discuss the potential benefits with your partner is key.  We will discuss talking to your fiancé about a prenup in our next blog.
"A Prenup Only Protects You if You Get Divorced"
A will alone is not always enough to guarantee your estate will be divided the way you want. For couples entering into a second or third marriage, especially if children are involved, a premarital agreement, in conjunction with an estate plan, may be necessary to ensure your property is distributed the way you want, should the unfortunate occur. Coordinating the premarital agreement with the work of the estate planning professional is most helpful.
"You Can Include Anything You Want in a Prenup"
Perhaps you can add anything you want to a premarital agreement, but that does not assure the contract will be enforceable. Arbitrary provisions for things such as stipulations about weight gain, restrictions on personal freedoms, or unreasonable demands could be considered against public policy, too biased, or unjust by a judge. All or part of the contract could be nullified. Provisions about children are not to be included in a Premarital Agreement as all issues are deemed the province of the family court. This does not mean the couple could not include their expectations about children and their desires for raising them in religious faith, expectations about working while the children are young, and the like. At the very least the couple should be talking about what all of their expectations are about the big issues in their marriage, whether or not it ends up in their agreement.
"You Don't Need a Lawyer to Sign a Prenup"
It is not a good idea for either party to enter into a premarital agreement without first having the contract drafted or reviewed by an experienced family law attorney. To protect each party's interests, both should have their own legal representation. In some states, this is required. Forgoing separate attorneys could cause the agreement to be successfully challenged in court, according to Texas family law attorney, Becca Weitz.
A premarital agreement should not be feared or considered a time-bomb for your marriage. In most cases, a premarital agreement, or a prenup, protects both parties – each party having their own legal representation by a knowledgeable attorney will help ensure this outcome.